Discover more from BowTied Bull
The #1 Paid Crypto Substack. No non-sense writing style covering: 1) Crypto, 2) Tech Stocks, 3) WiFi money and 4) Real Estate. Written by anon Ex-Wall St and Tech Individuals.
Over 75,000 subscribers
Welcome Avatar! BowTiedShrike and BowTiedBiotech have teamed up to give you today's post about Decentralized Science (DeSci). DeSci applies the technologies and processes from DeFi to the process of scientific discovery, reporting and translating those discoveries into life-saving/improving products. Annually, Biotech and Pharma generate 1.27 trillion USTT in revenues, which DeSci is poised to disrupt. 
Problems With Science That Blockchain Could Solve
"Science" is an overly generic term that covers knowledge, process and a wide range of activities and disciplines. Broadly, we can break the scientific enterprise down by stages and common tasks, with an emphasis on the processes in biomedical science. Overall, the process starts with generating knowledge and securing funding. The primary knowledge products are publications and intellectual property. Some of these knowledge products have application in human health. In order to apply the knowledge to human health products, the idea must be validated in preclinical models, manufacturing processes identified and scaled, the ideas validated in clinical trials, and then finally brought to market.
There are key pain points at many of these stages that could be addressed by applying crypto/web3 ideas and technologies to biomedical science.
COMMUNICATION
One challenge scientists face is communication. How does one regularly communicate with other experts in the field, pre-publication? Traditionally, this is done via scientific conferences. Social media and email have helped, but social media is primarily personality-driven instead of subject driven, and email is not real-time. Gathering multiple people around specific topics to regularly discuss them is one promise (even for web2) that has yet to be realized digitally at scale.
In a similar vein, another ongoing concern is sharing protocols and standards in each field. Occasionally groups of scientists list best practices, but due to the decentralized nature of scientific publishing and communication, these practices are often ignored. There is the additional challenge of sharing expertise. Certain techniques may be challenging to learn or require expensive equipment, which is cost-prohibitive for a few experiments. This problem is currently solved either by collaborating, by mailing a student to the lab with the expertise/equipment (academia) or by paying a Contract Research Organization (CRO) to do the work (biotech).
PUBLISHING
Scientific publishing is an enterprise ripe for disruption. While there are many issues with this enterprise, one notable issue is that article quality is judged by peer reviewers who volunteer their time to the journal. If an article is reviewed by multiple journals, this requires multiple peer reviews which is duplicative effort, and increases the overall time to publication. Thus, there is a need to streamline time spent in peer review, and compensate peer reviewers for their time.
FINANCING
Financing science at any stage is EXTREMELY challenging. With a limited supply of capital (whether that be government sponsored research, venture capital, or institutional financing) the bar for getting projects financing is incredibly high. The translation of intellectual property from academia to biotech is one of the most high risk and under financed components of the product development funnel. Often referred to as the "Valley of Death", it is where many projects die due to lack of funding. Academic funding will cover the earliest stages of handing IP off to a company, but the money does not last for long. Since there are many ways for the technology to fail at this stage, the risk is often too high to attract significant biotech funding.
INTELLECTUAL PROPERTY
The filing and management of intellectual property is a burdensome and archaic process ripe for disruption, particularly at the earliest stages of development (i.e. academic IP). Most PIs are not savvy when it comes to the details and intricacies of doing this right, the burden falls on the institution's tech transfer office (TTO). TTOs are understaffed and underfunded. One common TTO strategy is to file provisional patents and then separately search for a buyer of the IP, who will cover the cost of filing and maintenance costs. There is a lot of room for improvement here using web3 technology which we will cover below.
Decentralized Science (DeSci)
Decentralized Science is an attempt to apply the advances made in blockchain to science. The field is exploding with >50 projects popping up in the last 6-9 months alone.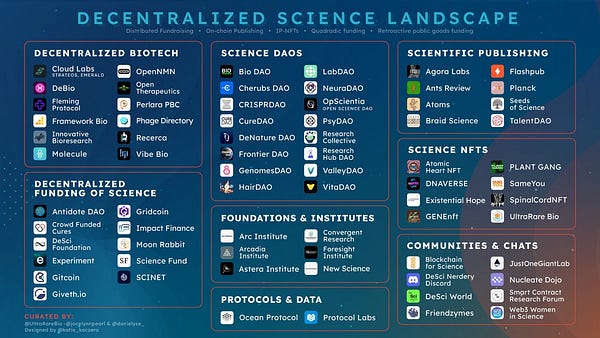 We will highlight a few of the areas below where DeSci innovations are advancing.
DAOs organized by application
DAOs capture many ideals already held by academic communities, and in a sense provide the technology platform to truly implement ideas around open science which have been slow to gain traction. The ability to have anyone world-wide contribute to solving common problems underlies the premise of scientific meetings and societies. 
Some of these DAOs represent the initial push into the world of web3. As you will see, many of these are still in very early forms. Thus, there are many opportunities to get involved, not just for scientists, but for devs, legal, community managers, marketing, governance, operations, etc.
CRISPR DAO is one such community focused on the use of the gene-editing technology CRISPR. It launched in January 2022. CRISPR DAO is currently a Twitter handle and a discord with big dreams. It is still in early boot-strapping stages (building out website/legal). 
GenomesDAO runs a secure genome storage service. They have partnered with Nebula Genomics to sequence your genome and then securely store the sequencing data. These data can then be monetized by you. You may allow third parties to query your data in exchange for being paid in GenomesDAO ERC-20 token, $GENE. They use a second token, $GNOME/$veGNOME for governance. Both tokens are on Polygon.
Decentralized Lab Processes
LabDAO is an attempt to accelerate the work of science by facilitating the exchange of work, protocols and data between labs. They aim to connect scientists with the specialized resources and expertise needed to advance their own work. This would be a way of connecting scientists with Contract Research Organizations (CROs), and enabling individual labs to serve as CROs. To start, they are tackling challenges in standardizing computational biology, which is currently an ugly mess of homebrew algorithms, codes and custom analyses. They are currently building the open lab protocol that would underlie this information and service exchange.
Publishing 
The publishing aspect of science is plagued by many problems, most notably the peer review process. Ants-Review is a privacy-oriented protocol of smart contracts that incentivizes peer review. Ants-review allows authors to offer bounties for anonymous peer review using the ERC-20 token $ANTS. This incentivizes academics to provide reviews, accelerates the time for peer review, and reduces redundancy in peer review. To reduce the capacity for abuse, peer review quality is assessed by the community. The smart contracts have so far been deployed to testnets on Ethereum. It will be interesting to see how this integrates with other efforts towards journal-independent review, like Review Commons.

Dan Goodman
@neuralreckoning
The current system of journals and peer review is not serving science. I have therefore resigned from all editorial roles and will no longer do pre-publication peer review. I explain why in this article and in the thread below. Please consider joining me. https://t.co/to0MOUJbID
Community-funded science
Another early-stage DeSci entrant, The Science DAO aims to be a "decentralized think tank, incubator engine, and accelerator platform". The goal is to serve as a Venture Fund to allow the public access to pre-IPO science. The current plan is to have an advisory committee vet projects, and then allow the entire community to vote on which projects to fund. They plan to offer fund-raising for projects via NFT sales, with 90% of the money raised by the NFT launch going to the project (10% to the DAO). The NFT valuation is expected to track the valuation of the company, which provides stable NFT floor prices, and increases in value as the company succeeds. The Science DAO recently launched their website, and also their governance token, THEORY ($THRY). $THRY enables holders to vote on which proposals should be supported, along with other governance issues.
Finally, one of the most established entrants in DeSci is VitaDAO. This DAO is focused on the topic of longevity, and has laid much of the groundwork currently used for science DAOs. VitaDAO aims to provide key funding to projects in the "Valley of Death". Consequently, they invest in very early stage work. The IP developed during this work becomes community-owned IP through the issuance of an NFT on-chain that represents the IP rights (IP-NFT). To date, the DAO has invested ~$2M in various projects. These projects are reviewed by a team of experts, and the reviews are discussed in a governance forum. Then if there is sufficient interest, the proposal moves to a formal snapshot/governance vote for funding. In exchange for IP rights, the researchers get funding, and connection to larger biotech investors interested in VitaDAO's model for seed round and later funding. The governance token is $VITA, which is needed to vote on proposals.
Challenges and Considerations
While all of the above is quite exciting, like any nascent field, it comes with many challenges that need to be worked out. Below we summarize:
SCIENTIFIC RIGOR
Problem: The egalitarian nature of DAOs means everyone gets a vote, regardless of their training (or lack thereof) in any given field of science. In science, it is easy to sell ideas to people who lack the expertise to find problems with it. For extremely technical endeavors that have a high rate of failure, such as drug discovery, this can become highly problematic. 
Potential Solution: Some DAOs have established expert groups to vet final diligence before proposals go for full vote. Others have explored credentialing anons, or keeping membership limited to experts. 
SCIENTIFIC QUALITY
Problem: If the best science/founders already have access to financing, is the quality of what goes to DAOs subpar?
Potential Solution: At the Valley of Death stage (academia to biotech transition), money is very scarce. Academia funding only covers 1/3-1/2 of great ideas from good teams. Investors on the biotech side successfully predict which hypotheses will translate into an approved product only about 1 in 10 times. This occurs in part because it is too early in the development cycle to say just because an idea comes from an established institution/investigator it is more likely to translate than any other. Biotech investment is also focused at biohubs (e.g. Boston, San Francisco, San Diego, New York), which means there is opportunity to find winning biotechs outside of these areas. The DAO concept builds on this and offers an alternative funding source.
ENGAGEMENT
Problem: As mentioned above, for drug discovery, an expert multidisciplinary skill set is required to evaluate projects. Individuals with these skills do not grow on trees and are highly sought after. How can we ensure they will participate?
Potential Solution: That is the beauty of the DAO system - the token model aligns incentives for all parties to participate. For token holders, they are obviously incentivized as when the value of the DAO grows it should be reflected in the token. Academics are already used to reviewing for free, so earning tokens is a novel thing.
NOTE: Another beautiful advantage is around equality. Today, bio-business and drug discovery investing are difficult to break into - it is not uncommon to hear lab based colleagues comment: "how can I jump to the business side". DAOs offer to provide this experience - AND best of all compensate people for giving time and being productive. Literally anyone can join a DAO, even if one cannot afford the coins. But, if talented people can provide value they will be rewarded with token bounties. For example, you are in grad school and cannot afford the token. Join a DAO, help with diligence and if a project gets funded *YOU* will be rewarded with tokens - congratulations you are now an official stakeholder.
DAO ACCESS TO CAPITAL
Problem: At the moment ~$10-30M seems to be the ceiling on a DAO fund raise.
Potential Solution: The nature of the funding target (Valley of Death) is compatible with these amounts. If a technology can successfully pass through, it will attract additional investment. DAOs focused around IP are sensitive to this issue, and are building connections with VCs and investment partners. As soon as a science DAO is successful in spinning out VC backed newcos another level of LP financing will be unlocked. We predict within 5 years DAOs will be capable of raising $100M and compete with traditional venture capital. Within 10 years we could very well see a $1B DAO capable of competing with traditional banks for IPOs and secondary financings. 
DAO LEGAL STRUCTURES
Problem: Perhaps the BIGGEST problem for DeSci right now is the legal structure of a DAO. Currently, DAOs are treated as a general partnership, which means all token holders are partners. Partners are all liable for any legal action brought against the DAO. This simply will not work for taking institutional money. 
Potential Solution: We are seeing traditional legal entities forming hybrid structures with DAOs to enable business within legal frameworks. For example a US LLC could be formed to manage interactions with the legal world, and the DAO exists to manage governance and communication. This trades off decentralization and anonymity for regulatory compliance.
Note: this topic is incredibly complex and we could have a dedicated post dedicated to emerging DAO legal frameworks. We encourage you to check out a recent presentation by Jesse Hudson, Jose Pinto, and Savva Kerdemelidis on this topic from the recent DeSci Berlin conference: (link below should start at 4:30, but if not, scroll there)
REGULATORY RISK
Problem: Most DAOs claim their token is a governance token, which exists solely to enable governance, and this not a security. Whether this is true by legal standards or not is currently up for debate, and there is a real risk is that regulators could quickly change the law and cripple many of these nascent science DAO organizations. This is to say nothing about NFTs that represent IP or investments in private companies, and are held in a common venture with the expectation of profit. 
Potential Solution: The current solution is to try to hedge against coming regulation, which contains many unknowns. There are the usual approaches:
claim your token is a valueless governance token, without a clear value-accrual mechanism 

discourage/prohibit US citizens from holding tokens

ensure everyone on the multi-sig is a full KYC'd non-anon

do NOT redistribute profits, or give any indication that is in the forward looking plans 

to be conservative, limit investment to accredited investors
Additionally, DAOs can be structured to limit legal risk, but it can quickly get complicated. This is not legal advice, but currently the preferred structure seems to be creating a Special Purpose Vehicle (SPV) legal entity in parallel to the DAO. The SPV enters into contractual relationships on behalf of the DAO. Key members of the DAO can be appointed as agents of the legal entity and be granted limited liabilities and all the other protections of a legal entity. 
If you plan to spin up your own DAO, PLEASE LAWYER UP.
Note: if/when regulation does come, it is worth noting regulatory agencies will have limited enforcement capability/capacity. They will likely target for-profit DAOs vs philanthropic science-based DAOs that are providing a social good by improving human health.
We are in the very early stages of DeSci, but we believe this has the potential to transform science.
Until next time…
---
Disclaimer: None of this is to be deemed legal or financial advice of any kind. These are *opinions* written by an anonymous group of Ex-Wall Street Tech Bankers and software engineers who moved into affiliate marketing and e-commerce. We may or may not be homeless and set for life. We're an advisor for Synapse Protocol and on the JPEG team.